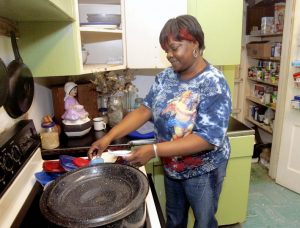 By Darla SlipkeFriday, December 23, 2011
"It's given me the strength to endure what I didn't think I could endure."
ETTA THOMPSON
Lighthouse Home resident
Sharion Richardson was 22 years old the first time her uncle introduced her to cocaine.
Since then, she has gone months or even years at a time without using, but she always has come back to the drug.
"It takes me away from feeling," said Richardson, now 44.
She relapsed Dec. 16.
Afterward, a friend persuaded her to call Vanessa Scaife Rorie, founder and director of the Lighthouse Home.
Women come to her when they are broken, distraught or have given up on life.
Scaife Rorie helps them heal by giving them a home and support.
Nine women, soon to be 10, live in the blue four-bedroom, two-bathroom house on Eastern Avenue.
Scaife Rorie and her business partner, Elnora Birth, pay most of the $60,000 it costs to run the house on an annual basis. Scaife Rorie even took on a part-time job to help pay the bills.
She's asking for the public's help this winter.
The Lighthouse Home is struggling to pay its utility bills. Scaife Rorie said they would appreciate donations during the next couple of months to help keep the house warm.
Some women support the house by paying rent, but many do not have jobs. It's hard for many of them to find jobs, especially in this tough economy, Scaife Rorie said. She doesn't turn people away who can't pay.
"We're struggling but we're making it because we have to have this home for the next person," Scaife Rorie said.
She bought the house in 2001, after she finished a drug and alcohol rehab program. She said she didn't like being alone, and she got a good deal on the house.
It seemed to be the universe's way of telling her she should use it to help others, Scaife Rorie said.
She called the house the Lighthouse Home because she was in the dark when she was using drugs and alcohol. She wanted this place to be a beacon of light for other women. Scaife Rorie said she added the word home because that's what it is.
"The word home is so important," she said. "I think everyone deserves a home, a comfort."
The women can stay as long as they need.
Richardson, who moved into the home on Tuesday, has lived at the Lighthouse Home twice before. This time is different, Richardson said.
"I want to really dig down deep inside and see what it is that keeps me going back to it (cocaine)," Richardson said. "I know it will kill me."
She said she knows if anyone can help, Scaife Rorie can.
"I think I can do a lot of things that I can't," Richardson said. "She knows all about that."
Richardson choked up as she discussed how she hit rock bottom.
"It's OK, baby," Scaife Rorie said. "We've got you."
Women at the shelter share a bond and support each other like family.
When Laurie Hendricks came to the shelter, she didn't expect to stay long. Eight months later, she's still there.
"I'm not going anyplace else," Hendricks said. "This is home."
Hendricks, 52, is a recovering alcoholic. She said she decided to leave the home once before she was ready, but Scaife Rorie persuaded her to come back after she realized that was a mistake.
Etta Thompson, 45, has been at the shelter for two years. During that time, she said, she has learned to love herself and accept herself.
"It's given me the strength to endure what I didn't think I could endure," Thompson said.
She was addicted to cocaine for six years. She said she lost everything, including her family.
As of Wednesday, Thompson had been clean for one year, four months and 21 days. Now, she and her four children are closer than ever before, she said.
One resident, who asked not to be identified, said she sees this as her last chance.
Her addiction stripped her of everything – a big bank account, a successful career, a house, family and a marriage.
The Lighthouse Home has given her a place in which to work on healing and overcoming her addiction, she said.
People can mail donations to: The Lighthouse Home, Inc. at P.O. Box 636, Princeville, N.C. 27886. Donations are tax deductible.